Jameis, Struggles And The 3-4 Defense
October 20th, 2016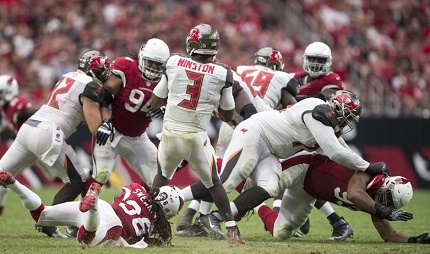 Dirk Koetter spoke last year and this summer about getting America's Quarterback, Jameis Winston, more experience against a 3-4 defense, something he didn't see much of in college.
The Bucs' offense was rather anemic against the Cardinals and Broncos this season, both 3-4 defenses, while the Tampa Bay offense was better against the Falcons, Rams and Panthers, 4-3 teams.
Yesterday, Joe asked Dirk Koetter about Jameis against the 3-4 defense. Koetter didn't agree with Joe's premise.
JoeBucsFan.com: Where would you say Jameis is in his development against a 3-4 defense? It seems like he's played better games against a 4-3.

Dirk Koetter: I would just say that although on the scoreboard your statement right there is correct, fronts usually don't dictate how a quarterback plays, that usually is more protection and run-game oriented. Coverage is usually more dictated on how the quarterback plays. So, I personally would not make that statement, but you can throw it right back in my face to point to the scoreboards. I would have a hard time arguing with that.
Ok. That's Koetter's unfiltered answer. It didn't really address Jameis' development.
Joe asked because the 49ers, Sunday's opponent, have a 3-4 defense and, as Koetter noted on his radio show, they typically stay in that 3-4 alignment even against a three-wide-receiver set.
Whatever has flummoxed the Bucs and Jameis against 3-4 teams, Joe hopes it disappears quickly against a talent-challenged Niners squad.