"The Glazers, I Think They Got It Right"
October 23rd, 2016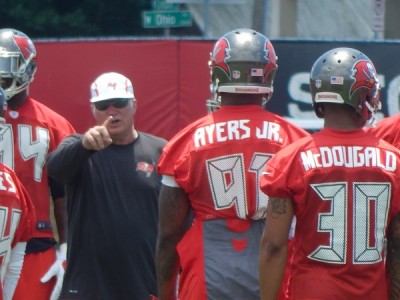 Rarely does a Buccaneers player reference Team Glazer.
But newcomer defensive end Robert Ayers went there on his radio show this on the Buccaneers Radio Network.
Ayers was talking about great defenses and how trust between players comes through familiarity (aka time) and great coaching. The latter exists in Tampa, he said.
"The Glazers, I think they got it right with this hire," Ayers said of his defensive coordinator. "Hopefully, you know, Coach Smith will be here a long time, even after I'm gone. And Coach Hayes, you know he's a great defensive line coach, and they can build that and continue to get better together."
Ayers, 31, is a straight shooter, so the passion with which he spoke of his defensive coordinator and position coach intrigued Joe. It was great to hear, and it's interesting that Ayers has gotten an alternative view of his coaches since he's been injured since Week 2.
As for Smith's future, well, Joe is confident Smith is bolting for a head coaching job the minute it's offered to him.