"Closer To Doug Than He Is Chuck"
October 18th, 2016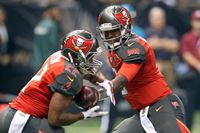 So what will the Bucs' rushing attack look like when Doug Martin returns from the hamstring injury that sidelined him in Week 2?
Dirk Koetter put his foot down with an answer yesterday.
It's Doug Martin's show, Koetter said, regardless of how well Jacquizz Rodgers is performing and the fact Rodgers was chosen by Koetter to be the inspirational focus of the team.
Koetter elaborated to say Rodgers isn't suited to magically step in and be all things Charles Sims, who is on injured reserve with a knee injury.
Rodgers, per Koetter, is "closer to Doug than he is Chuck."
So will Martin return on Sunday? That's top secret. The next step is seeing whether he returns to the practice field Wednesday after more than a month off.