Bucs Need A Knockout Punch
October 9th, 2016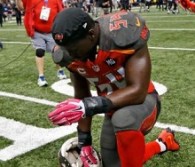 Desperate times call for desperate measures.
The Bucs need a win in the worst way Monday night in Carolina, where all-World quarterback Cam Newton will sit out with a concussion.
Yes, Bucs-killer former Pro Bowler Derek Anderson is at QB for the Panthers. But he's not a good starter by NFL standards. However, the guy behind him, No 3 QB Joe Webb, is downright awful, which is why he covers kicks and punts for Carolina.
Webb was humiliating as a Vikings backup five years ago and hasn't thrown a regular season pass since. With one beastly hit on Monday night, the Bucs could knock Anderson out of the game and up their odds considerably.
Joe's not calling for the Bucs to use illegal tactics, but it might be nice to see Mike Smith uncork blitzes early and often against Anderson. He needs to take some shots.
Plus, against the Bucs in 2014, Anderson twice made it very clear he has no problem sitting back and carving up a zone defense.
Joe would love to see the Bucs duplicate what they did last Sunday, which was knock out an opposing QB in the first half. They'd likely have better results this week.