Bucs Must Beat Ex-Buc/Super Bowl Goat
October 9th, 2016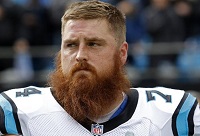 The Bucs should be salivating right now, just like Von Miller was in February.
Tampa Bay gets to face Mike Remmers, the Panthers' right tackle who will be starting tomorrow night at left tackle when the Bucs face Carolina on Monday Night Football.
Remmers, at right tackle, single-handedly helped Miller win the Super Bowl MVP trophy.
With Michael Oher out against the Bucs, Remmers shifts over to protect the blind side of Derek Anderson, who is filling in for Cam Newton. Of course, the Bucs are hugely depleted at defensive end, with Robert Ayers and Noah Spence unlikely to play, and Jacquies Smith and sackless George Johnson out for the year.
But there's got to be a way to exploit Remmers, right?
Remmers, 27, is an undrafted Greg Schiano man. He was on the Bucs' practice squad in 2012 and 2013. Carolina made him a full-time starter on opening day last year, en route to the Super Bowl with a significantly re-tooled O-line.
Joe just can't stomach the thought of the Bucs having a hard time exposing this guy at left tackle.