Verner Losing Ground To Jude Adjei-Barimah
October 6th, 2016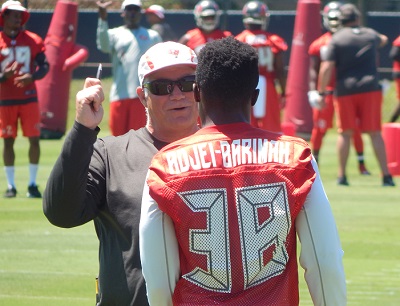 One story of this young season is the realization that cornerback Alterraun Verner is not going to return to his Pro Bowl form of 2013, when he played for the Titans.
Thirty-six games into his Buccaneers career, and Verner has struggled be average. And that's not why general manager Jason Licht gave Verner the big bucks.
Verner is now a part-time player, and Dirk Koetter spoke today about how Verner has become more of a part-time guy with second-year man "Hey Jude" Adjei-Barimah getting more snaps at nickel cornerback.
"We also want to see if Vernon Hargreaves is better staying outside at corner all the time than having to go back and forth between nickel and corner," Koetter said. "We're four games in, and I'd say that's still a work in progress.

"But Jude did a good job when he was in there at nickel. I mean, he only played four plays [against the Rams], so it was almost it was entirely Verner in and Hargreaves inside. Hargreaves got to stay outside [against Denver] when Jude came in at the nickel. They did a good job. Both those guys did a good job last week."
Joe has to translate this as more playing time is coming for Hey Jude and, of course, it's no surprise that the Bucs' brass is interested in keeping Hargreaves at one position. That's a natural.
Joe wonders where Verner will play next year? Or whether the Bucs might be able to dump him for a late-round pick before the trade deadline?