Welcome, Cecil Shorts!
September 6th, 2016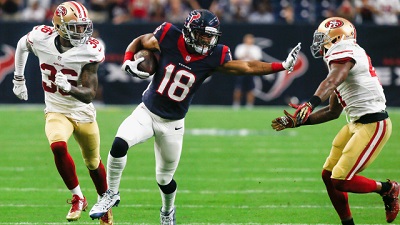 This time last year, early in opening-game week, the Buccaneers added one of their starting cornerbacks to the roster, Tim "Loaf" Jennings.
Joe apologizes for the vomit-inducing "Loaf" reference at lunchtime, but it's a reminder that players teams consider very valuable can come at the 11th hour.
Enter recently cut Texans wide receiver Cecil Shorts. The 28-year-old caught 42 balls and two touchdowns last year for a good team with shaky quarterback play. With the Jaguars in 2014, Shorts caught started 12 games and caught 53 balls. In 2012 and 2013 in Jacksonville, he caught a combined 110 balls and 10 touchdowns.
Now this is the kind of guy Joe has been yearning for all offseason: legitimate veteran depth at receiver, what America's Quarterback, Jameis Winston, deserves.
Per the Houston Chronicle, Shorts is healthy after "hamstring issues and a dislocated shoulder limited him to 11 games and four starts" last year. He had caught a whopping 22 balls in the first four games before missing time.
Props to general manager Jason Licht for pouncing like a rabid dog to get Shorts to visit Tampa. Well-regarded Adam Caplan of ESPN reports he'll be in town soon.
If the Bucs sign Shorts, look for Joe to be smiling a little brighter at the first JoeBucsFan tailgate.