Monday Off = Jameis Working Early
September 14th, 2016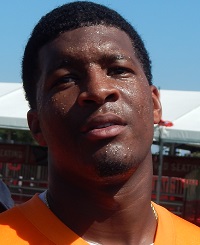 So what was Jameis doing Monday morning when the Buccaneers players given a "Victory Monday" day off?
Of course, Jameis was at the office early in the morning, so said quarterbacks coach Mike Bajakian on the Buccaneers Radio Network.
Bajakian was asked about grading Jameis against the Falcons and revealed Jameis' schedule.
"For as tough as I am on Jameis, he's tough on himself also. And he's a perfectionist," Bajakian said. "He came in first thing this morning, players' day off. He pops his head in my office; I don't know what time it was. He always will make his entrance and we sat down and talked about the game. The first things he's bringing up is, 'Hey, I could have done this better. I could have done that better.' So there's always stuff to improve upon. But I was happy to see progress in the areas we emphasized all offseason, all training camp."
There's no letup from 22-year-old Jameis.
"He's hungry. He's very hungry in every way. He's hungry to improve as an individual," Bajakian said of Jameis. "He's a competitor, wants to beat everybody we play. So I don't think he's ever going to be one who rests on his laurels."