"Highly Unusual" Schedule For Dirk Koetter
September 14th, 2016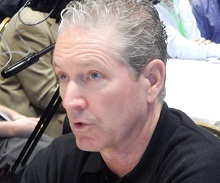 The head coach has a plan for a rare NFL occurrence imposed upon the Buccaneers.
That would traveling to the Pacific time zone three times in one season, as the Buccaneers do this year.
This is new NFL territory for Koetter, he told the Buccaneers Radio Network, "highly unusual" was his exact phrase.
As a result, the Bucs will travel west a day earlier, on Fridays, before Sunday games at San Francisco, San Diego and Arizona, which is this Sunday's opponent.
"You're trying to get the players more acclimated to the time," Koetter explained.
It's a tactic Koetter said he learned from a coach on his staff. Joe presumes that's Mike Smith.
"The coach that I learned this from had a very good record doing it. It's something I'm going to copy," Koetter said.
Joe finds the concept of players needing to adjust to Pacific time a little strange for a game that kicks off at 4 o'clock Sunday, the same time as the Bucs' home opener on Sept. 25. But hey, if Team Glazer is willing to pay for another round of hotel rooms on Friday night, then why not?