"I Guess I Gotta Say That Right Now"
September 14th, 2016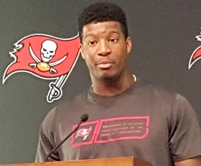 Yes, yesterday's words from America's Quarterback, Jameis Winston, kept Joe awake all last night.
Joe saved this nugget until this morning to spare Bucs fans the same fate.
Jameis was in high demand on national radio yesterday, and that included The Dan Patrick Show. Jameis discussed the similarities of hitting a baseball and playing quarterback in the NFL.
And then came the following disturbing exchange:
Dan Patrick: Do you rule out baseball as a career at all at any point?

Jameis Wisnton: Uhh, (laughs) I guess I gotta say that right now. But you know I love baseball so much. The highlight of my year was being able to throw the first pitch out at a Yankees-Rays game. So that was pretty good for me.
Joe does not doubt Jameis' commitment to the Buccaneers and the NFL. But what happens, say, after Jameis' seventh season in Tampa? He'd be approaching 28 years old and might get the crazy idea that he needs to fulfill a life's dream on the baseball diamond before his body gets too beat up.
And yes, Jameis praised Tim Tebow during this interview for his competitiveness and will to pursue his dreams while being driven by faith.
Catch Jameis talking about his baseball love below.