Best Defensive Player On The Field
September 12th, 2016
BY IRA KAUFMAN
A few days before the Bucs departed for Atlanta, Kwon Alexander admitted he left a lot of plays on the Georgia Dome field last year, vowing he wasn't going to let that happen again.
Mission accomplished.
Gerald McCoy and Lavonte David did their jobs very well in Sunday's 31-24 triumph, but let's not kid ourselves — Alexander was the best defensive player on either team.
By far.
Alexander's closing speed was startling as he led a stingy rush defense. And while still learning the intricacies of NFL pass defense, Alexander's athleticism and determination to be great stamps him as a key member of the franchise's future.
Alexander wrecked Atlanta's game plan with 15 unassisted tackles, nine more than any other player on the field. He added a sack, two tackles for loss and a team-leading two quarterback hits.
That game ball could just as easily have been placed in his hands instead of Dirk Koetter's.
"I started last Saturday preparing, putting everything in order," said Alexander. "Like I said, preparation is a lot. When you're getting ready for a game, and you know what is going on, you're going to make a lot of tackles and a lot of plays, so preparation is key."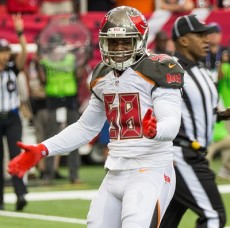 It also helps to have the kind of instincts you can't teach.
Simplicity Rules
Alexander just turned 22 and his growth curve has been rather astonishing. When he was stolen in the fourth round of the 2015 draft, he was supposed to back up veteran free agent Bruce Carter at middle linebacker.
Instead, Alexander forced Carter to the bench with his dynamic play in training camp. Carter is gone, picked up by the Jets in the offseason as a backup. In New York's season opener, only two Jets who suited up failed to get in the game — backup quarterback Geno Smith and Bruce Carter.
Alexander doesn't try to overthink his position. He likes keeping things simple, offering his Four Basic Steps to Success: "Play hard, play fast, make big plays, have fun … and win."
Before a hostile crowd, Alexander just went 5-for-5.
"That's a good front seven, there's no question about it," Ryan said after Tampa Bay assumed sole possession of first place in the NFC South. "They've got a really good defensive line and one of the premier players in Gerald McCoy, he's very talented. Their two linebackers to me (Alexander and David) are some of the most underrated players in the NFL."
In the span of only 13 games, Alexander may have established himself as Tampa Bay's most valuable defensive presence. McCoy and David have the big contracts, but Alexander owns the big upside and the biggest potential impact.
Redemption Tour
The proof is on the scoreboard, where the Bucs went winless down the stretch last year during Alexander's four-game suspension for violating the league's policy on performance-enhancing drugs.
Alexander let his teammates down, just when the 6-6 Bucs were poised on the fringes of the NFC wild-card chase. He won't rest until he makes amends.
And if this is his personal redemption tour, it couldn't have started any better.
"It felt great," he said after the Bucs silenced the Georgia Dome crowd. "We all came out of the gate hard and had fun out there. When you have fun, you can make great plays."
Alexander always looks like he's having fun playing the game. He carries himself with confidence, on and off the field, as evidenced by a personal Twitter account that goes by the name: "Alexander the Great."
On a thrilling Sunday afternoon in Atlanta, Alexander lived up to that billing.
It's just a start, but Buc fans are beginning to get a sense that No. 58 is a thrill ride waiting to happen.