Dirk Koetter: Jameis = Tom Landry
September 12th, 2016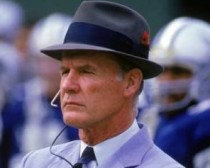 The legend of America's Quarterback grows.
How fitting it is that Jameis Winston was likened today to legendary head coach Tom Landry, the former chief of America's Team. And it was Bucs head coach Dirk Koetter himself making the analogy.
On the Buccaneers Radio Network this evening, Koetter was asked by a fan whether he thought Jameis would — or could — be a good head coach one day.
First, Koetter joked that Jameis will earn so much money as a player he won't need to coach, but then Koetter answered the question.
Yes, yes, yes, Koetter said, Jameis would be a great head coach. Koetter said he can see it in Jameis already and he said Jameis would be in the Vince Lombardi, Weeb Ewbank, Don Shula and Tom Landry mode.
Koetter said he could easily envision Jameis working in and old school fashion and even dressing like Landry (see above), including his trademark fedora.
It's a fun thought, but 22-year-old Jameis is, hopefully, at least 15 years from a potential coaching career.
Regarding Jameis and coaching, Joe will say confidently that Jameis likely will be choosing who coaches him for many Bucs seasons to come.