Koetter Says "Defensive Head Coaches" Limited His Aggression
September 10th, 2016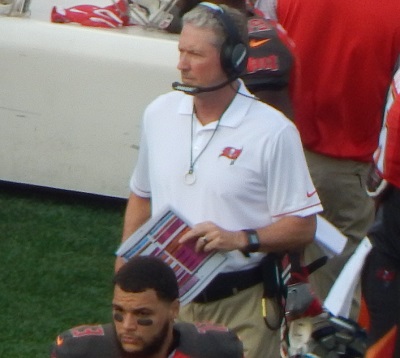 Very candid and interesting admission by Dirk Koetter last night.
The head coach hopped on SiriusXM NFL and talked to hosts Alex Marvez and the legendary "godfather" of modern scouting, Gil Brandt.
Koetter was asked whether his promotion, specifically, will make him more aggressive.
Gil Brandt: Do you take a few more chances when you're the head coach calling plays than you would when you're the offensive coordinator and an assistant coach?

Dirk Koetter: Yeah, I think you probably do. Because, you know, I've worked mostly for defensive head coaches in my career. And when you do you feel like, I can't let those guys down. Or maybe they don't want me to be too aggressive. But when you're the head coach, it gives you a little bit more of a license to say, 'Hey, we're going to take a few more shots. And if we don't get it, then defense, get out there and let's try to stop them.'
Joe found this intriguing because it represented Koetter expanding on his mindset of a loosened leash.
When Koetter got the head coaching gig in January, Joe asked the new head coach about the influence of the old head coach on the offense. Koetter was adamant that Lovie Smith was hands-off.
"I want to make sure that's a clear point that I make … in no way did Lovie Smith tell me as an offensive coordinator, do and don't do this," Koetter said. "Lovie Smith was as supportive for me as a head coach could be. Lovie told me what kind of offense he wanted to have, and we tried to emulate that thought.

"I will say that when you're the head coach and you're the playcaller, you have a license to be a little more aggressive. You know, that's how I was when I was a high school coach. That's how I was when I was a college coach. Now that comes from inside me, because you have the power to decide. You have the power to decide, 'Are we going for it on 4th-and-1?' You have the power to decide, 'Do we need to throw it deep three times in a row, or do we need to give it to Doug Martin three times in a row?' And you don't have to worry about the head coach second guessing you. You are the head coach. So you make your game plan, you stick to your game plan. But I'm not making this up in any fashion. Lovie did not hold us back in any way. Lovie was awesome to work for in that respect."
So the summary here is that while Lovie didn't tell Koetter what to do, Koetter was a loyal soldier trying to serve his defensive head coach and balance what Koetter wanted versus Lovie's philosophy.
Man, Lovie was lucky to have a guy like Koetter working for him.