"I Want To Punch Somebody In The Mouth"
September 16th, 2016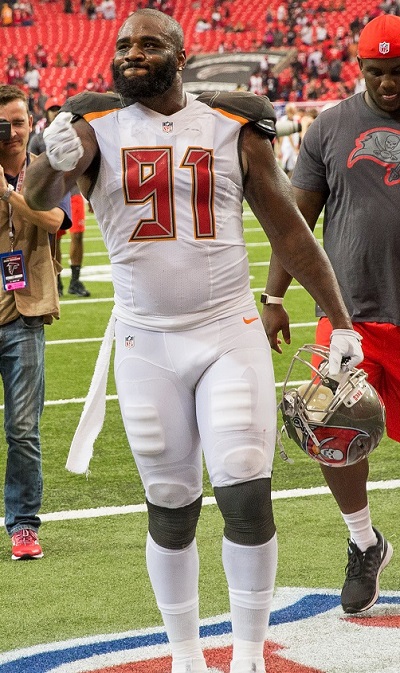 Just call defensive end Robert Ayers "Ghostbuster."
Who is the ghost, you ask? That would be former Bucs defensive end Michael "Ghost" Johnson, the man who stole about $16 million from Team Glazer and embarrassed himself and Bucs fans during his one season in Tampa.
Johnson was so inept, such a waste. His agent even said he wanted to be somewhere else and wasn't a great pass rusher before the Bucs threw truckloads of cash at him.
Speaking on the Buccaneers Radio Network last night, new big money free agent Robert Ayers talked about hearing the ghosts of free agents past.
Ayers has a message for them, and he felt it was delivered, in part, by his clean, edge-rush sack early in the first quarter against the Falcons.
"Because you come as a free agent, you know, people want to know what you can do. I hear all the talk of past free agents, and this, that and the other, and people want to ask me about it," Ayers said. "You know, I don't necessarily worry about that. But in the back of my mind I'm definitely thinking, 'Look it. I want to punch somebody in the mouth and let them know Robert Ayers is for real.' And you know that's the message I want them to see. I want them to see my energy. I want them to see who I am. Win, lose or draw, I want to be the guy who's out there playing fast trying to do a lot of damage to the other team. That's my mindset. … I definitely wanted to come out here and set a tone to the fans and the NFC South."
Amen.