Michael Johnson's Agent Says His Client "Missed" The Bengals And "Wasn't A Great Pass Rusher" Before He Got To Tampa Bay
February 27th, 2015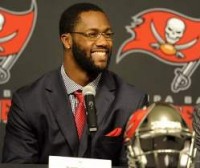 If the Bucs bring back ghostly and ghastly defensive end Michael Johnson this season, frankly, Joe won't know what to say.
There will be plenty of head shaking at JoeBucsFan.com world headquarters.
Simply stated, last night Joe listened to late-January audio of Johnson's agent, former Titans and Bengals defensive tackle John Thornton.
Mr. Thornton said, via ESPN Radio in Cincinnati, that Johnson missed the Bengals last year, and Thornton explained Johnson wasn't a great pass rusher before he joined Tampa Bay to be their premier edge rusher — in a Lovie Smith defense that requires a fierce edge rush.
Here's Thornton's full take:
"I think they both missed each other," Thornton said of Johnson and the Bengals. "And that's probably, that's probably a regret that I have. You know, I was a part of the process, [agent] Rick Smith from Priority, who I was partnered with with Mike Johnson and [Bengals VP] Katie [Blackburn] were the lead negotiators, but you know I was working with the coaches and trying to keep everyone going. But we probably, both sides, should have worked harder to get that deal done [Cincinnati]. I think it was motivation on both sides to get it done.

"But, you know, we knew a lot of people valued Mike a lot higher than the Bengals did. But the Bengals never had a backup for Mike. They never had a right end on the roster, and they still don't. Robert Geathers is a left end. Carlos Dunlap is a left end. [Margus] Hunt, a left end. You know, [Wallace] Gilberry is best suited for situational role at right end. And he will give you six to eight sacks inside as a defensive tackle on pass rushing downs.

"So what Mike did is he allowed everybody else to rotate, because he was an every down guy. Now Mike wasn't a great pass rusher, no. But he was really good against the run, he was decent against the pass, and that's a huge value, because he helped everybody else be great. And I think that's where we all missed the boat. Even though Mike got a great contract, you know he was hurt most of the year in Tampa. I felt like we could have done more to keep him here [with the Bengals]. You know, that's something you learn in the business. Even as players, you don't always have to go for the biggest contract. So I think that's just something everybody learned from that. I felt we could have got it done, and they both missed each other."
So Johnson missed the Bengals — while Team Glazer was paying him a fortune. With Gerald McCoy by his side. With a player's coach like Lovie Smith.
This just confirms what Joe suspected three months ago.
Again, somebody, please give Joe a reason Team Glazer should sign up to shell out another $7 million to Johnson.
Feel free to listen to Johnson's agent via the audio player below.