First Career Goose Egg For Lavonte David
September 18th, 2016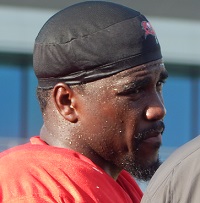 With his shoulder wrapped in ice at his locker, Lavonte David was feeling the pain of more than just a horrific Bucs loss this afternoon.
Eye-opening stats came from the seal-clubbing in Arizona, but none was more glaring than David having zero tackles, and zero assisted tackles.
That was a first in his standout Bucs career.
Yes, David hit Carson Palmer a couple times on blitzes, not sacks, but official hits without being flagged. Otherwise, though, David was a complete non-factor.
He's a $10 million per year linebacker, but today he wasn't even average. Neither were the Bucs.
With a couple of missed tackles on his resumé this afternoon, Kwon Alexander saw his tackle total drop from 15 solo efforts against Atlanta to six today. Strongside linebacker Daryl Smith only had one.
That kind of non-production from linebackers a great sign the opponent was getting tackled way to far down the field, which certainly was the case today.
Joe talked to David after the game, and he acknowledged that he and the defense weren't sharp on their "keys," and he agreed with the locker room sentiment that the team wasn't practicing well through the week.