Shifting Defenses
September 21st, 2016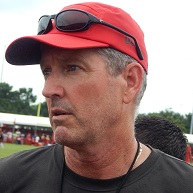 News of Doug Martin being lost for three weeks isn't just about change to the Bucs' offense.
After the Week 1 victory against Atlanta, Dirk Koetter talked about how stopping Doug Martin was the Falcons' defensive priority. And Koetter said Monday on his Buccaneers Radio Network show that Arizona loaded up on stopping the run by shooting in a safety so fast and furiously that tight end/fullback Luke Stocker was getting hit in the backfield.
But without Martin, how will defenses approach the Tampa Bay offense?
Joe thinks Bucs fans often forget Martin was the clear MVP of the offense last season. But defensive coordinators don't, and now the Bucs' offense is much more unpredictable without Martin.
This could be an advantage for Dirk Koetter. He still has weapons, especially if Vincent Jackson can awaken from his 2016 coma and Charles Sims is tough enough to shoulder a heavy load.