Primed For Action
September 17th, 2016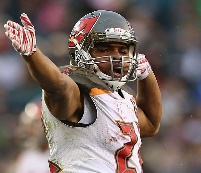 Doug Martin had to enjoy what he heard from Dirk Koetter and Jason Licht yesterday.
Koetter did one of those fancy video pregame chats with Scott Smith of Buccaneers.com and mentioned the Falcons' game plan was to stop Doug Martin in Week 1. That's what the film showed, Koetter said.
Combine that with Koetter and general manager Jason Licht both saying they expect a different approach with all kinds of blitzes and heat on America's Quarterback, Jameis Winston, from the Cardinals' defense. So Martin should be primed to plenty of opportunities on Sunday.
Martin had 18 carries for 62 yards in Atlanta, where he shook off some rust, caught five balls and ran very strong.
If the Cardinals are going to dial up all kinds of pressure, then Koetter knows how to counter that with his versatile running backs and effective offensive line.
Including January football last year, the Cardinals' run defense has absorbed a pounding in its last four games.