Why Mike Evans Is Better And Faster
August 14th, 2016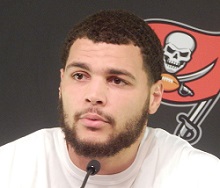 Evidence of the upgrade the Bucs made at wide receivers coach keeps mounting.
And it's not just Bucs receivers talking about what's new and different.
Yesterday, former Bucs scout and Jets linebackers coach and personnel chief Pat Kirwan as at training camp and raved to Mike Evans about what he saw in a receivers/quarterbacks drill.
In addition to the pace of 12 throws per minute, Kirwan loved the quality of the work. Keep in mind Kirwan has visited about a dozen training camps this year during the annual SiriusXM NFL Radio tour.
"Every one of you guys was running those routes hard," Kirwan told Evans. "And it was almost like there was coaching going on, like leverage points, 'take this route, take that part,' I was so darn impressed with that part."
Evans responded saying, "Coach [Todd] Monken, the wide receivers coach, is really working us to get our pad level down and run full speed all the time even if we're not getting the ball."
That really had Joe raise an eyebrow. Did the Bucs really need to be coached up to run hard?
Early in training camp, Joe talked to Monken about what Joe called the "soccer ball drill." (Video below). Monken was so darn passionate about the details on this drill Joe had never seen before.
Monken explained it's an adaptation of a common drill, with the grab-and-toss ball element designed to force precision in the movement.
"You're just working the mechanics of bending to get in and out of breaks," Monken said. "You're just putting them in that position, flexion in their ankles, their knees and hips. The ability to bend, get in that position just right so you can break with the motion of grabbing the ball and releasing. … Sometimes you'll do it with a cone, and I saw someone take it to a ball, to where you have to make the full movement skill."
Yes, there's high-caliber NFL coaching of Bucs receivers now, which is new to Evans' professional life.
That should help a lot, as should Evans' new body.
"I played heavier my first two years, around 235, 240 [pounds], and now I'm between 220 and 225," Evans said. "That's helped me run more, longer and faster."