Jameis' Chemistry Obsession Dooms Kenny Bell
August 14th, 2016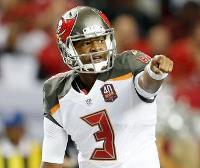 Yesterday, America's Quarterback, Jameis Winston, talked about his receiving corps on SiriusXM NFL Radio.
For those closely tracking the receivers depth chart, there was a lot to soak in.
First, co-host Pat Kirwan asked Jameis to talk about the impressive unknown receivers on his team that Kirwan studied in practice. Kirwan noted Adam Humphries and Shepard. But Jameis interrupted him and made sure to add the name "Donteea Dye."
Jameis went on to talk about Humphries, Shepard and Dye. Usually inclusive of his entire receiving corps, Jameis didn't include anyone else.
Also, Jameis referenced the chemistry and trust gained from Humphries and Dye being starters at times last year.
Repeatedly through the interview, Jameis referenced "chemistry." He believes in it deeply, as does Dirk Koetter.
That's a big reason why Joe never had any belief that Austin Seferian-Jenkins had any real shot to be ahead of Cameron Brate among the tight ends. And it's also a big reason why Joe never had any belief that Kenny Bell would be a significant factor this season. There's no chemistry or trust between Bell and Jameis.
"Even if a [defensive back] is playing good on a [receiver], you can't really cover an anticipated throw, and chemistry, timing and accuracy," Jameis said during a discussion of improving his rhythm.
As Joe wrote a few hours after Thursday's Bucs-Eagles game, Mike Evans, Vincent Jackson, Adam Humphries, Russell Shepard and Donteea Dye is your pecking order at wide receiver, with Louis Murphy healing in the background.
Barring injury, a wise acquisition of a veteran receiver, or a truly stunning breakout performance by another Bucs receiver, that's your opening day depth chart.