"Keep Our Jobs On Three"
August 30th, 2016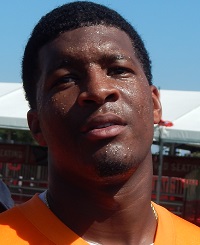 America's Quarterback, Jameis Winston, huddled up your beloved Buccaneers following pre-practice stretching this afternoon.
Jameis' message was loud enough to be heard, and it was a message of sensitivity.
Jameis mostly talked about players needing to practice hard to "keep our jobs."
The Bucs and the rest and the NFL will start cutting players later this week to get down to the mandatory 53-man roster. Right now, rosters can have up to 75 players following this week's cut from 90.
Obviously, Jameis has a job guaranteed — along with a fat pile of guaranteed cash. But today, it was all about relating to his Bucs family that's about to lose some brothers.
Jameis closed the session asking for the traditional hands in the air and group one-liner to start practice. Today, Jameis everyone to yell, "Keep our jobs on three." And they did.