"If He Don't Bring It On Sundays, We Got Issues."
August 11th, 2016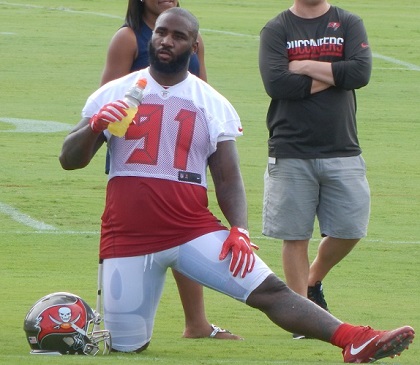 There's a beauty in the "naturally pissed off" madness of new Bucs defensive end Robert Ayers, who has driven teammates to the brink of fighting through training camp.
When you set an intensity level so high against your own team in practice, like Ayers has delivered daily, you better damn well perform the same way against opponents. Otherwise, you lose credibility. If you're going to talk angry and practice angry, and act like a bully, then you better play angry.
Right tackle Demar Dotson, who's in the camp of Bucs thinking about belting Ayers, made this point succinctly after practice Tuesday.
"If he don't bring it on Sundays, we got issues," Dotson said of Ayers.
This is what's known as raising the bar. "We need that," Dirk Koetter said multiple times of Ayers' practice habits.
Joe was waiting for Koetter to say, 'We needed that.' But he didn't go that far. However, Joe will say it. The Bucs trenches needed a nasty influence, a guy to get other players thinking harder about playing for blood and with everything in their souls — all the time.
Watch No. 91 tonight. See if he walks the walk. If Ayers can be the player he's been in practice, then the Bucs have bagged their best defensive end since Michael Bennett was allowed to walk away for no good reason.