Mike Smith, Lavonte David And "Great F.B.I."
August 4th, 2016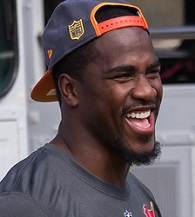 The Buccaneers' new defensive coordinator weighed in on all things Tampa Bay after practice today.
Speaking on WDAE-AM 620 after a thunderstorm-shortened practice, Mike Smith zeroed in on Pro Bowler Lavonte David, among others.
"Lavonte, he's not a man of many words. That's one thing I've learned very quickly," Smith said. "But his actions on the football field speak very, very loudly. He's making a lot of plays. He has a very good understanding of what we're trying to install right now. He's probably surprised a bunch of guys on the staff, in terms of his ability to take it all in. He's got great F.B.I., what we call great football intelligence."
This stood out to Joe, primarily because there was so much chatter during the Lovie Smith years about how it was a long process to learn to play Lovie's defense effectively.
Joe is watching practice daily and David looks like a guy playing instinctively, freely and aggressively. Sure, David was a strong player the past two seasons, but he had a rough start in 2015, and he looks better now than he has in years.