NFL Refs At Practices Don't Just Call The Action
August 4th, 2016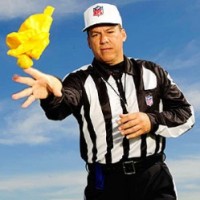 Dirk Koetter has referees and officials at practice this week, and they're real NFL zebras doing more than throwing flags.
Per Ali Marpet, the guys wearing black and white jerseys are available for constant consultation on the sidelines.
"It's important because we get to communicate with them like off the field," Marpet said. "We get to ask them questions and see what they're looking for and that's important to have, to have an open dialogue with the refs."
Koetter said a big name in the officiating world is on site and the crew with him is significant.
"I'm sure you could see that we had officials out there [Thursday] – Gene Steratore and some of his crew. We had five or six NFL officials," Koetter said. "They'll be here for the next two days as well. It was great to have those guys here, it was great to have real NFL officials so I didn't have to be the official, No. 1. But as you guys all know, we're making a big emphasis on the penalty thing. We had plenty of penalties today."
Joe finds it fascinating that the NFL is ok with teams hiring — and presumably paying — active officials. What a great advantage for the Buccaneers, who tied for the NFL lead in penalties last season with 143, just 15 off the single-season record.
In 2012, new Bucs defensive coordinator Mike Smith's Falcons had the fewest penalties in NFL history, just 55, and they set the record for least penalty yards (415). That wasn't by chance. In 2010, the Falcons had just 58 penalties. Koetter said he and Smith would be all over the penalty problems, and it seems Koetter wasn't blowing smoke.
After Monday's practice, Joe asked Koetter about penalties during the morning session.
"Yeah, there was lot of penalties, there just wasn't the obvious false start penalties," Koetter said. "We had a couple real bad holds on offense, a couple of good PIs on defense, we had a real bad illegal pick. I think that was on the throw to Evan Spencer, that was [wide receiver Jonathan] Krause, he would've got called for a pick on that because he initiated the contact. Penalties [are] ongoing, trust me when I say we're working on it, those guys are hearing about it. I show them the penalties every day in the afternoon meeting. The players are talking about it, that's a good thing. They know we can't win playing like that. At the same time, we're also telling them to compete so we're going to have some."
For the record, Lovie Smith openly stated he didn't like having officials at practice. So this change at One Buc Palace represents a new opportunity.