Seferian-Jenkins' Score = Bucs Loss
July 11th, 2016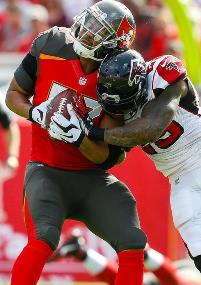 Joe's commentary on the value of tight end Austin Seferian-Jenkins yesterday drew some heated debate.
It got the stats crowd all hot in the pants — and not in a good way.
You can click the link above to revisit the discussion, but the chatter got Joe looking deeper at ASJ's six career touchdown passes. Interestingly, he has never scored a touchdown during a Buccaneers victory.
Last year, ASJ caught two garbage time TDs against the Bears and Rams. Both preceded kneel-downs by the Bucs' opposition. He also racked up two TD catches in the 42-14 drubbing by the Titans on opening day. Who could forget ASJ high-stepping to the house down 42-7?
In 2015, ASJ snagged two fourth-quarter touchdowns that gave the Bucs the lead (vs. Minnesota and vs. Atlanta). Great stuff. But the second was the famous Captain Morgan pose (video here). It cost the Bucs 15 yards and the Falcons scored the game-winning touchdown 56 seconds later. And Josh McCown cried after the game.
So what does this all mean? Joe really has no answer.
But the crowd that thinks ASJ has been a highly valuable cog when he is on the field is rather misguided.