Odd Tight End Standards
July 10th, 2016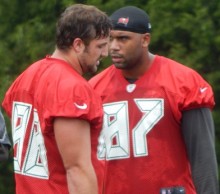 Joe can't believe a seasoned Bucs reporter/analyst would think Austin Seferian-Jenkins has been a solid receiver when on the field.
Maybe Joe needs new glasses, or should lay off the vodka, or must watch more film.
Tampa Bay Times Bucs beat writer Greg Auman was talking on WDAE-AM 620 last week and was rather bullish on ASJ. Host Ron Diaz asked him whether Cameron Brate will have more of an impact this season or if ASJ will stay on the field.
"I think if Austin Seferian-Jenkins is healthy and focused, if you will, I think he's definitely their No. 1 tight end," Auman said. "You did put a second-round drat pick into him. When he's been healthy, he's been, you know, a productive pass catcher; he's got like 40 catches in two years missing half the games."
Maybe Joe's misguided, but ASJ's 42 catches in 16 games (most of them starts) isn't very productive. ASJ snagged those 42 balls while targeted 77 times. That's a pretty gruesome percentage (54.5 percent) for a tight end.
A glance at the NFC South last year shows Saints tight end Ben Watson snagging 67.2 percent of balls thrown at him, (74 of 110), and the Falcons' Jacob Tamme grabbed 72.8 percent of his targets (59 of 81). Carolina Pro Bowler Greg Olsen pulled in 62.1 percent (77 of 124), despite defenses giving him a ton of attention. Brate hauled in a whopping 76.6 of the balls thrown his way (23 of 30) for Tampa Bay. Kellen Winslow as a Buccaneer (2009-2011) caught 62.6 percent (218 of 348).
No, Joe doesn't think ASJ has proven to be a productive pass catcher by NFL standards. The guy is a serious talent, but it has yet to register.