Louis Murphy Summons Cops After Costly Nap
July 6th, 2016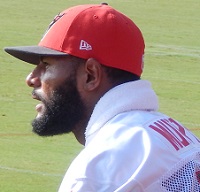 Former Bucs defensive end Kyle Moore used to nap in defensive line meetings.
Current Bucs wide receiver Louis Murphy now has his own napping reputation.
Greg Auman of the Tampa Bay Times has shared details of Murphy's Friday night drinking that left him sleeping on stairs and locked in a Palm Beach museum following a wedding reception there.
Murphy told police he "got nervous and broke the glass on one of the doors in order to unlock it," then called a friend, who called 911. Police arrived at 1:12 a.m., and then the museum's facilities manager arrived and estimated the damage to the window at $1,000. The two parties agreed to "work out the repair costs amongst themselves," according to the report.
Murphy issued a statement to say all is well after an unfortunate evening.
Joe finds this all humorous and no big deal from one of the good guys on the Bucs, though it's surely a bad idea for a guy recovering from ACL surgery to be inebriated and hanging out on stairs. But it's not like Murphy was kicked out of an underwear football practice, or punched a cab driver while he drove on I-275, or was tased by Tampa police.