Thursday Practice Notes & Observations
June 2nd, 2016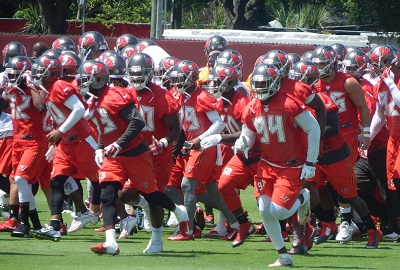 It was another day of underwear football at One Buc Palace, a steamy OTA practice just 101 days from opening day. Joe's got plenty.
*Offensive coordinator/wide receivers coach Todd Monken is all fired up as practice begins.
*Former Bucs quarterback Shaun King, one of three QBs to lead Tampa Bay to the NFC Championship game, is in the house and on the sidelines. King spends extended 1-on-1 time with Bucs general manager Jason Licht.
*McCoy, jokes after going through a drill, yelling, "Oh, it's cold!" McCoy wore long sleeves and pants in the searing heat.
*"That's it. Beautiful," yells defensive line coach Jay Hayes to Will Gholston after burning through a pass rush drill hitting the dummies.
*11-on-11 starts and America's Quarterback, Jameis Winston, is picked off by newcomer linebacker Daryl Smith. Jameis throws a dart right and in the slot and Smith jumps the route and takes off.
*Jameis complete to Austin Seferian-Jenkins. Nice completion, but ASJ would have been blown up by if it were a real game. No hitting in OTAs.
*Mike Glennon steps in and throws left complete to Mike James. Next is a 15-yard Glennon strike in heavy traffic to Russell Shepard.
*Back to drills and Will Gholston is barked at by Jay Hayes and drops to do what looks like eight pushups in the middle of a hands drill.
*Noah Spence gets coached up big time by Hayes. (video here)
*Man, defensive end Howard Jones (five sacks last year) looks damn quick in drills. Fastest of the D-linemen. Yes, Joe spent a lot of time on the D-line today.
*"That's the way to turn it, big boy," Hayes yells to Gerald McCoy on the dummies. Hayes seems to gush over McCoy repeatedly.
*Drop! Camp meat tight end Kivon Cartwright.
*Bucs look very sharp in drills with quarterbacks and receivers. (This will change soon, though)
*Mike Evans, from Jameis, with a great catch adjusting in the air on a ball thrown intentionally high but a shade behind him. A true "wow" moment admired by his teammates.
*Glennon overthrows a target, followed by QB Ryan Griffin with an overthrow. Glennon then throws behind his next victim.
*Diving grab by wide receiver Evan Spencer, second-year man out of Ohio State. He lived on the practice squad last season.
*Another drop by Cartwright.
*In 7-on-7 work, Mike Evans drops an easy one. Joe will spare the K-Y humor.
*Glennon overthrows Kenny Bell.
*Clouds appear! Joe is so damn happy.
*First-round pick Vernon Hargreaves with a sweet breakup on tight end Cameron Brate over the middle in tight coverage. This was second-unit duty. You could see Hargreaves' explosion.
*Adam Humphries taking nearly all the punt return duty. Donteea Dye up next.
*Back to 11-on-11, long scramble from Jameis on a roll right. Complete to Evans. Luke Stocker and Austin Seferian-Jenkins are your first-team tight ends.
*Charles Sims runs right with a big burst.
*Luke Stocker lines up as fullback and catches a pass in the left flat from Jameis.
*Jameis dumps ball off to Doug Martin.
*Home run! Mike Glennon to Kenny Bell.
*Drop! Russell Shepard in tight coverage with ball bouncing around. Mike Smith screaming, "Finish the play!"
*Rookie running back Peyton Barber jukes safety Isaiah Johnson. Teammates ooh and ahh.
*Rookie wide receiver Andre Davis out of University of South Florida is one big target for a guy listed at 6-1.
*Johnthan Banks gets beat deep by Spencer from Jameis.
*Jameis complete 15 yards in front of Banks in the right seam to Adam Humphries.
*Laser throw from Glennon to Shepard. Great catch, too, but Glennon would have been sacked in real game.
*Practice ends with an interception of third-string QB Ryan Griffin.
Head back to the JoeBucsFan.com home page for more out of today's practice.