The Tease Of Underwear Football
June 3rd, 2016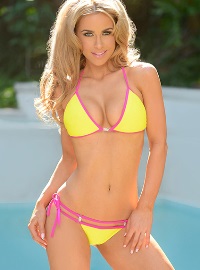 Underwear football is such a tease. Like the blonde at the beach bar that keeps gazing at you with alluring eyes, only wanting to sponge icy cocktails off you.
Fans hear "football" for OTAs, and the lust for football takes over. Joe gets all sorts of technical questions about formations and linebacker play, blocking and tackling, but alas, it is underwear football. Shorts, shirts, a helmet. Nothing more.
It gets far more physical in trendy south Tampa hot spots with thumping music and scantily-clad lasses than it does on the practices fields at One Buc Palace for OTAs.
About the only thing Joe legitimately can cobble together from underwear football is when receivers go against corners in 1-on-1 drills. That's about. And, yes, coaches sometimes get frustrated because they would like to see how players do in real football combat. That's not allowed until training camp.
When asked about rookie defensive end Noah Spence, Koetter said everything from Spence looks fine but nobody will really know until the pads are on.
"He's looked really good," Koetter said of Spence. "I love his attitude, definitely has pass rush ability, love how our defensive coaches are bringing him along, but especially I just like his attitude and the way he's approaching it every day.

"You're seeing his pass-rush stuff, but when we're going no pads like this it's a little bit tough to tell if he would've actually won every time. He tells me he wins every time [Koetter then chuckled], but I think if you ask the O-linemen they'd say he didn't win every time, so we'll see. That'll all play itself out."
Nobody can see, and no one knows, how Spence's moves translate to angry offensive linemen in pads trying to pancake him.
Though the Bucs have not released a full training camp schedule or start date, Joe's looking at July 27, as a tentative first day. On Day 3 of camp, that's when the NFL allows contact in practice. And that's when we'll know a lot more about Spence.