Seferian-Jenkins Quits Twitter Until Playoffs
June 18th, 2016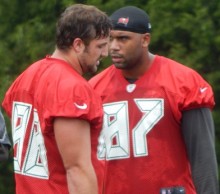 Memo to the all the "trolls" attacking Tweety Austin Seferian-Jenkins: The Bucs' tight end has changed his approach.
The man who pledged to attack all who attack him on Twitter — and made good on his promise last week — is now a pacifist, ready to acquiesce to every hate barb thrown his way.
This evening, ASJ waved a Twitter goodbye until January — or perhaps forever, if the Bucs don't qualify for the postseason.
Really lived a blessed life right only right that I give back. I'm done tweeting till the playoffs w. We in there

— Austin Seferian J (@Aesj88) June 18, 2016
Smart move by ASJ. But it illustrates just how foolish he was threatening fans and blasting assorted versions of  "Yo mama" insults at them after Dirk Koetter kicked him out of an OTA practice last week.
Of course, there's always Instagram, where ASJ has been known to let loose.