Koetter Wants More Scrambling
June 15th, 2016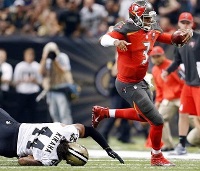 Believe it or not, Dirk Koetter wants America's Quarterback, Jameis Winston, running for his life more often.
Jameis has said Randall Cunningham is one of his heroes, and after what Koetter said yesterday, perhaps Jameis should bust out his favorite Eagles highlights of the scrambling legend.
Koetter was referencing practice work, but it's a safe leap to say Koetter wants Jameis to use his legs more to escape trouble during games.
"Jameis can handle a lot and does handle a lot every day," Koetter said. "He can handle more than we're giving him. Compared to last year at this time, he knows way, way more than he did a year ago at this time and also if you remember a year ago at this time, he was probably throwing three or four interceptions every single day and you saw even when things broke down today, Jameis pulled the ball down and ran.

"That's one thing we've been working hard on is our scramble drill. I think that's an area that we've improved."
Per NFL.com, Jameis absorbed 109 quarterback hits last season. Good luck finding a QB who absorbed more.
Jameis needs to do a better job deciding to scramble, and that will, as Koetter implied, help him avoid interceptions.
All this talk of Jameis running has Joe looking for the Valium early this morning. Joe knows Jameis is a fierce competitor and inevitably will expose himself to big hits while fighting for yardage, as he did last year.
Joe wants Jameis to stay healthy. The thought of the Bucs needing Mike Glennon to save the day is hive-inducing.