"They Want Some Of That Magic Dust"
May 19th, 2016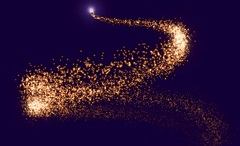 Are important people at One Buc Palace jealous of the Tampa Bay Lightning's success?
This notion was floated by none other than 25-year Tampa Bay sportswriter eye-RAH! Kaufman, the "Custodian of Canton." He was a guest last night on WWBA-AM 820 and was asked whether the rampant buzz following the Lightning has the attention of power brokers with the Buccaneers and the Tampa Bay Rays.
Kaufman implied the Rays have too much to worry about with their attendance and stadium situation to care. But the Bucs, Kaufman said, are watching and yearning.
"They want some of that magic dust," Kaufman said of the Bucs.
Kaufman noted his research reveals Tampa Bay is the only NFC team since the 1970 NFL-AFL merger to finish in their division basement for five consecutive seasons. That fosters longing for what a quality Bucs team would inspire.
Of course, Joe and legions of fans remember how Bucs-crazy the Bay area was back in the late 1990s and through the first post-Super Bowl season.
Only sustained winning will bring back that kind of fever. The inspiring 10-win 2010 season sure didn't.