Koetter Likes The "Every-Snap" Advantage
April 19th, 2016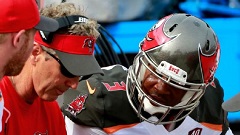 Second-year players vary greatly, Dirk Koetter explained in a new interview.
Koetter sat down for a video chat with Buccaneers.com reporter Scott Smith. It's all here. There's nothing too enlightening, though Koetter rolled out a stat he finds important.
The head coach says 11 percent of first-round draft picks play every snap for their team as rookies. So it's pretty darn rare. That's three or four players per season.
In 2015, however, the Bucs had two of those guys, Donovan Smith and America's Quarterback, Jameis Winston.
Koetter was asked about whether quarterbacks really make their biggest leap in Year 2 of their careers. Koetter agreed, but said often the popular take is overblown. In Jameis' case, Koetter is more of a believer because of all those snaps provide Jameis a full plate of knowledge when it comes to expectations.
For Smith, well, he's got three more games under his belt than fellow second-year offensive lineman Ali Marpet, who sprained his ankle during the first-half of a November 8 game against the Giants. That may seem insignificant, but during the ensuing weeks, Marpet openly talked about how refreshed his body felt; he couldn't imagine the drain of having to press through and play 16 games.
Smith knows that grind, and so does Jameis, who fought through his own ankle woes in August and September.