Jason Licht's Magic Threesome
April 29th, 2016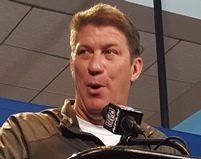 Trader Jason Licht was back wheeling and dealing again, as he's done since arriving with the Bucs.
Last night, he shed light on his trade-down gamble.
Licht pulled the trigger on a last-minute deal with the Bears, moving from pick No. 9 to No. 11, and snagging Chicago's fourth-round pick in the process.
It was a huge risk, if you believe the Bucs' official line: that they had their hearts completely set on cornerback Vernon Hargreaves, who they drafted at No. 11.
Licht told Casey Phillips of Buccaneers.com (video here) that a magic threesome was in play. If Hargreaves, "along with another guy or two," was on the board, then the Bucs would seek the deal down and roll the dice that their research on the Giants' next move at No. 10 would play out.
The Giants snatched cornerback Eli Apple at No. 10, and then the Bucs bagged Hargreaves and the Bears' fourth-round pick.
That seems like a bizarre move for this level of risk, again, assuming Hargreaves was their guy.
Is a fourth-round pick that valuable? And if so, why didn't the Bucs trade Mike Glennon for one months ago?
Answers might happen in a matter of hours, if the Bucs use both their fourth-round picks to move up in the second round.