Vernon Hargreaves: "Expect A Lockdown, Playmaking Corner"
April 29th, 2016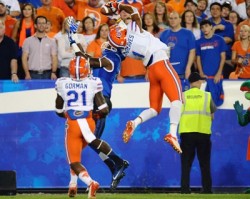 New Bucs cornerback Vernon Hargreaves, just 20 years old, was talking a big game last night.
The former Gators star was just being his trademark confident self, flashing the ego Jason Licht and Dirk Koetter say they adore. They appreciate what America's Quarterback, Jameis Winston, and his big personality and drive meant to the roster.
Hargreaves joined the Buccaneers Radio Network on WDAE-AM 620 last night and let Bucs fans know exactly what he thinks. "Expect a lockdown, playmaking corner," Hargreaves said. Audio below.