"I Just Had Enough Of It"
April 12th, 2016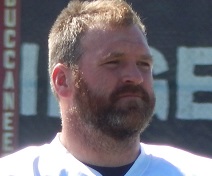 Retired Bucs Pro Bowl guard Logan Mankins waved off $7 million to play for Tampa Bay this season and a chance to improve his long odds of becoming a Hall of Fame inductee.
Mankins was happy to slink out of the spotlight and back to his family outside of Boston.
Last week, the Providence Journal caught up to him for what appears to be his first media interview since bailing on his Bucs teammates.
Mankins has no regrets about his recent retirement.
"No, not really. I just weighed my options," Mankins said. "Could I have kept playing? Yeah. Would I have still played at a high level? Yeah, but I just didn't feel like playing anymore so I just decided to retire.
"I played 11 years. I think that's enough. I didn't need to do that anymore. I just had enough of it. So I said, well, I can go and find me something else to keep me occupied."
Joe would wager that the toll of losing in Tampa played a role in Mankins' retirement decision. How big a role will remain a mystery.
(For those who missed it, below is Mankins' final interview as a Buccaneer, with JoeBucsFan.com at the Pro Bowl.)