Growing Up
April 12th, 2016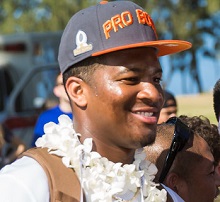 Joe remembers but a year ago how the self-appointed moralists and the sophists and the do-gooders screamed to high heaven that the Bucs should steer clear of America's Quarterback, Pro Bowler Jameis Winston.
The way some described Jameis, he was just short of Charles Manson, an evil monster. That was from most folks who likely never, ever talked to Jameis much less followed his college career.
Of course, Bucs AC/DC-loving general manager Jason Licht knew better. And of course, Jameis helped himself. Did he at times act immature? Perhaps. But there's no question Jameis won over just about everyone he has come into contact with this past year by being above board and becoming the team leader, writes Bob Harkins at TodaysPigskin.com.
[I]t does speak to an increasing maturity in the rising star, and perhaps an awareness of his own status as a leader for the franchise.

He's saying the right things, and that will carry him well moving forward – with management, with the fans, with his coaches and with his teammates. All of it will reflect well on him and help him as he tries to take a prominent position in moving the franchise forward.
The only thing Joe can add is thank goodness Lovie Smith and Licht saw through all the nonsense and the howls of protests from all corners. Even a high-ranking member of Lovie's inner circle was dead set against Jameis, no less a figure than Father Dungy who did his best to torpedo plans the Bucs' plans to draft Jameis, a shameful stunt Joe will never forget.
Joe knows the Bucs were under an incredible amount of public pressure to stay away from Jameis. Good thing they stayed true to their instincts and research.