"Rioting Up And Down Dale Mabry"
April 12th, 2016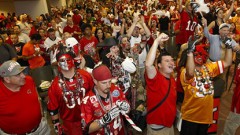 Bucs fans are excited, antsy, frustrated and hopeful all at once.
But most of all, five consecutive last-place finishes and a rising franchise quarterback in the house has fans impatient like never before.
The Custodian of Canton, eye-RAH! Kaufman of The Tampa Tribune, talked about this phenomenon on Joe's favorite morning show today, PFT Live on NBC Sports Radio.
Host Mike Florio asked Kaufman to deliver an over-under on when the Bucs will be a "true contender again." Kaufman dodged a direct answer but projected dire consequences if the Bucs can't win more than they lose.
"They gotta turn this thing around in the next couple of years or there's going to be rioting up and down Dale Mabry, Mike. You don't want any part of that," Kaufman said.
He went on to say the Bucs' Super Bowl victory, their last playoff win, "seems like a faded memory."
Joe agrees. Joe sees the gray hair on Super Bowl-era Bucs. And Joe knows plenty of Tampa Bay teenagers run around thinking Simeon Rice is a trendy Thai dish.
Whatever the hump is the Bucs must get over, it really must happen in the next two years. All excuses have evaporated.