Extreme Security
April 9th, 2016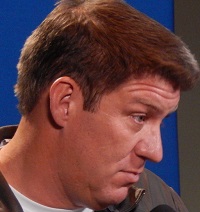 Talk to Bucs general manager Jason Licht, and he'll tell you Tampa Bay had its draft board skeleton looking damn good in December.
Bowl games happen. Juniors declare, and then the draft board is nearly done. Combine, pro days and interviews, that's for very minor tweaking. Coaches dive into the evaluation process late in winter, and that changes the game a little.
But what stays the same in most organizations, per Hall of Fame general manager Bill Polian, is access to the team draft board.
Speaking on Sirius XM NFL Radio this week, the former Colts, Panthers and Bills GM spoke of how security guards and custodial staff were denied access to the room containing the draft board. In fact, he said, it was on lockdown, with multiple locks and keys only held by three members of his staff.
Digital copies of the draft board were not permitted. Only a written copy was made — and updated by hand — and kept in a safe in another room in case of an emergency.
Only his team's highest-ranking decision-makers could ever see the board, Polian said. There was a profound lack of trust of those on his staff.
"The fact is that on draft day, you're competing with the 31 other teams, and you wouldn't think of handing another team your gameplan," Polian said. So why would you in any way compromise the information that you have that might help you beat them to a player in the draft."
Joe gets the sentiment, but it's awfully paranoid.
Joe wonders what's going on at One Buc Palace. Is Jason Licht using fingerprint technology for access to the draft war room? Is it swept regularly for bugs?
Joe plans to ask Licht on Thursday during the GM's annual, pre-draft news conference.