Buccaneers' Official Draft Board Taking Shape
December 9th, 2015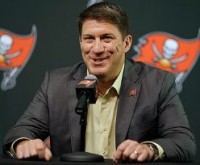 It's never too early to talk NFL Draft, especially when Bucs general manager Jason Licht is talking draft.
For many teams, the December draft board is a big piece of the puzzle. Hall of Fame GM Bill Polian likes to talk about how much he relied on that board because it was nearly completely based on talent and scouting — and not yet colored by personal impressions of a college kid and other outside influences.
That sure makes a lot of sense. A December board is all about football.
Licht seems to be in the same camp. Per his Sunday chat with the Buccaneers Radio Network, Licht and his scouting staff were assembled at One Buc Palace and finalizing the foundation of the 2016 draft.
"We got the [draft] board not completely set, but the skeleton of the board at least, including all juniors we think may come out," Licht said. "We try to nail it down as early as possible. It helps us focus in on the players we think can help us the most down the line."
Licht has been vocal previously that he doesn't put much stock in the underwear Olympics of the NFL Scouting Combine in February. Lovie Smith, however, is a huge combine guy.
Regardless, it's comforting to know Licht and his grand slam team are deep into the draft. Another one like this year's and Bucs fans will be talking Super Bowl.