Begging The Football Gods For Mercy
April 15th, 2016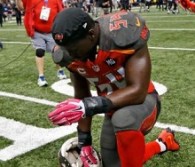 It didn't take long for the challenge to sink into Joe's beer-soaked brain.
The Bucs open their season in Atlanta, and then travel to Arizona in Week 2.
NFL fans know beating good teams on the road is a huge hurdle, and starting a season 0-2 often leads to a horror show. It's almost an evil twist to have the Bucs' brand new defense debut in an ear-piercing dome, where communication on defense is difficult.
Joe begged the football gods for mercy last night.
The Bucs simply must find a way to win one of those first two games.
Yes, it's a long season, but Joe worries about the collective mental strength of team. There is new blood in the building, and more coming via the draft, but remember last opening day. That's when Lavonte David explained the team came unglued after one play — the same team that finished the season in freefall.
The Bucs return in Week 3 to face the Rams in the home opener, a nice exhale. But then the cruel football gods dropped the Broncos (home) and Panthers (road on Monday night) in their laps in successive weeks.
Dirk Koetter, Mike Smith and America's Quarterback, Jameis Winston, need to find a way to toughen this team up in a hurry.
(The full 2016 schedule is found here.)