Another Draft Tip-Off
April 11th, 2016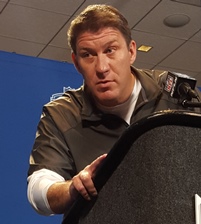 Starting this morning, the Bucs officially entered their offseason program without adding a wide receiver.
Translation: the Bucs have not upgraded the position, which has flimsy depth.
General manager Jason Licht is far, far to smart to draft a franchise quarterback and then pass on surrounding the guy with enough weapons.
Wide receiver Louis Murphy, who turns 29 next month, had major knee surgery (ACL) in November. He can't be counted on as the important No. 3 receiver. Adam Humphries is a nice No. 5 receiver, not a No. 3. Donteea Dye and Kenny Bell are lucky to be employed in the NFL. Russell Shepard is a No. 5 or a No. 6, a special teams ace who can catch.
Vincent Jackson is 33 years old coming off two significant knee injuries, and likely entering his final Bucs season. Mike Evans has renowned K-Y hands.
That's not the look of a burgeoning receiving corps for America's Quarterback, Jameis Winston. Also, the Bucs are lacking an A-list tight end.
With players reporting back to work today, Joe considers the fact the Bucs didn't sign veteran free agent Roddy White for depth, or another veteran, as a clear tip-off that Licht plans to draft a wide receiver later this month. Second round? Third round? Joe is unsure.
But again, Joe is sure Licht is too smart to march into 2016 with shaky depth at receiver.