More Evidence Mohamed Sanu Will Be Avaialble
March 1st, 2016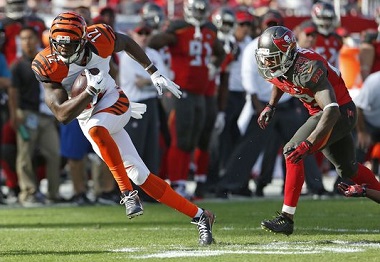 The free agency dinner bell rings in eight short days — Eight! — and your Buccaneers hold handfuls of Team Glazer loot to spend.
Make it rain, Mr. Licht!
The long list of players who will be free agents on March 9 is undetermined, but one guy getting a virtual boot from his team's website is Bengals receiver Mohamed Sanu.
Joe wrote about the value and potential Bucs fit of Sanu three weeks ago. He's just 26-years-old, handled whip-cracking Greg Schiano as his college coach, overcame the drops early in his NFL career, has experience in the slot, and he caught 33 of 49 balls thrown his way last season. Sanu also has made 34 starts for good Bengals teams over the past four years.
This is a guy who won't cost too much, and he might be very eager to join the Bucs as a No. 3 receiver knowing he could earn a No. 2 job as Vincent Jackson fades away.
As for the Bengals' website, it penned a story about re-signing its own free agents. The story had a bunch of firm statements about players but Sanu only was referenced as a guy who has told "sources" he isn't returning to Cincinnati.
For the Bucs fans who think Donteea Dye, Adam Humphries and Russell Shepard, and Louis Murphy coming off major knee surgery in November, represent proper depth at receiver, Joe really can't help you.