Sniffing Sanu
February 9th, 2016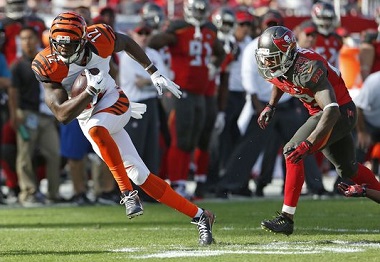 Ever since the looming free agency frenzy at One Buc Palace was revealed, Joe has been studying the crop likely to be available when the dinner bell rings on March 9.
Louis Murphy had major knee surgery in November. Vincent Jackson is old. Donteea Dye is CFL-caliber. Adam Humphries is a quality No. 5 receiver. And Mike Evans is an extraordinary talent with a bad case of Vaseline hands.
If you don't think the Bucs need help at receiver, then Joe suggests you see a physician.
One guy that might be a strong fit is Mohamed Sanu, the 26-year-old Bengals wide receiver who was their No. 3 or No. 4 man last year. He fixed his hands after a brutal Vaseline stretch early in his career (Perhaps he can counsel Mike Evans?). Sanu caught a whopping 33 of 49 balls thrown his way in 2015, and he's performed plenty of good work in the slot.
Plus, he thrived under Greg Schiano at Rutgers. So you know he won't have a breakdown if Dirk Koetter screams at him.
At 6-2, 215 pounds, he's a big target with 34 starts under his belt for good football teams.
Joe has no idea whether Sanu will re-sign with the Bengals, but they have plenty of receiving talent and might not want to pay him. Sanu seems like the kind of guy the Bucs could snag with a modest three-year contract.