Miko Grimes Endorses Roddy White
March 13th, 2016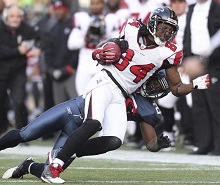 The Bucs desperately need depth at receiver, and many amateur Tampa Bay general managers have called for the signing of Falcons icon Roddy White, a free agent for more than a week now.
Of course, Joe sought the opinion of a woman well versed in White's ways.
Her name is Miko Grimes, superfan and wife of new Bucs cornerback Brent Grimes, who is gunning to make his fourth consecutive Pro Bowl. Grimes' first Pro Bowl came as a Falcons teammate of White.
So Mrs. Grimes, who always calls it straight, knows all about White.
of course! RT @JoeBucsFan: @iHeartMiko Is Roddy White the kind of teammate the Bucs need in the house?

— Miko Grimes (@iHeartMiko) March 13, 2016
The Bucs have about $20 million in 2016 salary cap room, and White won't be expensive.
Remember, Dirk Koetter called White the "single-most competitive football player I've ever met in my life."
Joe would feel better about what's surrounding America's Quarterback, Jameis Winston, if White were on the roster. He's a better option for opening day than Louis Murphy less than 10 months removed from ACL surgery, or Donteea Dye, or Kenny Bell, who has yet to catch a preseason pass.