Koetter Dead Wrong On "Extremely Freakish"
March 25th, 2016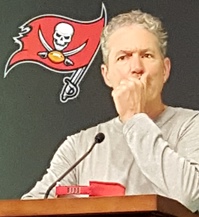 It seems Dirk Koetter doesn't listen to Vincent Jackson's show on the Buccaneers Radio Network.
Multiple times, Jackson spoke about how the ligament injuries to his knees last year, which cost him eight games, are a byproduct of the new NFL.
Solid high hits now are punished routinely by the league, so defensive backs and linebackers are aiming low. Jackson hates the rule change and says it leads to more injuries.
In the irony of ironies, Jackson's first injury of 2015, during the Capital Collapse in Washington, was caused by Dashon Goldson. The former Bucs safety was targed by the NFL for high hits, getting fined repeatedly during his first season with Tampa Bay in 2012. Goldson had to overhaul his game — and it probably cost the Bucs two wins last season plus Lovie Smith's job.
"[Dashon Goldson], aims a little bit lower target than most guys," Jackson said in November."But there's been such a big rules and fines and things going on in the NFL about targeting and hitting at the shoulder and head area, you're starting to see more and more defensive backs go lower, kind of aiming at the belt buckle or lower, which is unfortunate. I think you're starting to see a lot more injuries coming from that.

"It's tough. I look at the play, and it's like, 'Man, could he have aimed higher?' Of course. But I have nothing against Dashon. I respect him as a player. Would I rather take one in the chops? Absolutely. I'd rather take one in the chops every day instead of getting one like that low where you can't see it coming at protect yourself."
At the NFL Owners Meetings this week, Dirk Koetter went on a firm rant about how he doesn't think for a moment that Jackson has lost anything from his game at 33 years old, and Koetter said Jackson's injuries were "extremely freakish."
The reality is those two big hits to Jackson's knees were not "extremely freakish" in today's NFL. Just ask Jackson.
This is the life now for 6-foot-5 wide receivers — and the Bucs have two.