It's Official: Lovie Smith Will Coach Illinois
March 7th, 2016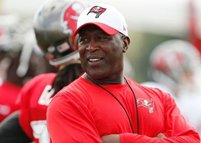 Simple as that.
Lovie Smith has a new job, and Team Glazer looks like it fired another coach whose heart wasn't in NFL coaching.
Remember when Team Glazer fired Chucky? It was bizarre. Chucky claimed total love of NFL coaching, but effectively retired on that January day back in 2009. There was Chucky, 45 years old and finished with his stated passion.
Now look at 57-year-old Lovie Smith. Team Glazer booted him, and Lovie, who is still owed about $10 million, now appears to be washing his hands of the NFL. Smith has accepted the head coaching job at the University of Illinois this morning. BSPN report he got a six-year, $21 million dollar deal. No word on how much of that is guaranteed cash.
It's a surprising move for a 20-year NFL coach, a guy who believed he just coached the Bucs to being "on the verge" of greatness.
The public story on Lovie's firing his that he didn't want to meet with Team Glazer and fight for his job.
Perhaps Lovie's heart was simply moving away from the NFL game.