Report: Team Glazer Inherits $4 Million From Lovie Deal
March 7th, 2016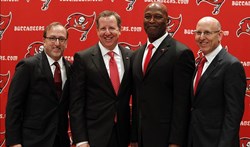 The spirited music and clinking schnapps glasses you hear are coming from One Buc Palace.
Lovie Smith got a new job, and per Ian Rapoport of NFL Network, its terms mean Team Glazer will hold on to $4 million previously earmarked for Lovie
Rapoport Twittered, "Bucs owed Lovie Smith $10M over the next two seasons. Illinois pays Smith $2M in '16 & '17 ($21M over 6 years). #Bucs now owe Lovie $4M less."
Does any of this convince the Bucs to pay Doug Martin more than they think they should? Joe sure hopes so.
The Bucs have more than $53 million in salary cap room for 2016, and now they have some unexpected green.
Joe really can't stand all those who chatter about how the Bucs can't and shouldn't overpay Martin a little. Wake up, people.