Gerald McCoy Is In Love
March 3rd, 2016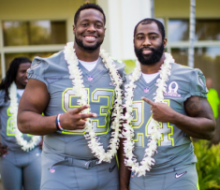 Gerald McCoy is having severe mood swings lately.
First, he was laughing at "hilarious," two-faced Bucs fans.
Now, No. 93 is voicing his love of Doug Martin. After the great Muscle Hamster was not granted the franchise tag by the Bucs, McCoy headed to Twitter and shared the following.
@Geradini93 – FYI I LOVE YOU @DougMartin22!! Patiently waiting……..Haha
Does McCoy know something Bucs fans don't?
Has Martin told Tampa Bay he'll hit free agency and bring them back an offer to match. And the Bucs said they'll match it?
Or is McCoy giving his comrade of four years a social media good-bye kiss?
Mark it down. Joe will vomit if Martin is taking carries from Marcus Mariota this season.