Top-10 Cap Room + Doug Martin
March 3rd, 2016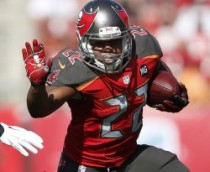 As Joe mentioned last night on the air with the dean of Tampa Bay sports radio, Steve Duemig of WDAE-AM 620, the Bucs could have locked up Doug Martin with the franchise tag and still would have had more 2016 salary cap room than 20 other NFL teams.
That data comes from Spotrac.com and jibes with many other published salary-cap-room charts floating around.
This is why Joe's head is a little sore from repeated pounding into blunt objects. Man, if the Bucs had slapped the tag on Martin, they still would have had great freedom in free agency and not impacted their cap for next year.
Plus, they would have had the benefit of limiting risk. If Martin isn't the same player in 2016 that he was in 2015, then you can let him walk or re-sign him for far, far less money.
Why were the Bucs sitting on their checkbook? Joe will never get that answered.
This Martin nightmare can have a happy ending, though, if Jason Licht signs Martin as the free agency dinner bell approaches next week. So Joe really isn't freaking out too much.
Joe realizes Bucs fans will cheer in unison if Martin soon signs, say, a three-year deal for $20 million with $15 million guaranteed. But that still comes with greater risk to the franchise than one year at $11.8 million.